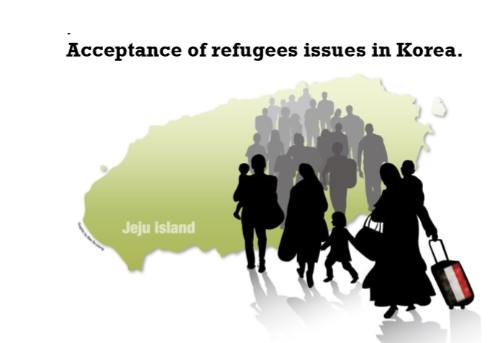 Printed from the Korean Times
Jeju islanders were thrilled to hear the news in December that the budget airline Air Asia had just begun operating direct flights between the island and Kuala Lumpur, Malaysia, four times a week. Months later, such sweeping optimism has turned into worries. The scenic southern island, which has
long been a hot tourist destination for Koreans as well as foreigners, has experienced a rapid surge of unexpected visitors _ Yemeni refugees.
As of June 21, 486 Yemenis, who escaped from their war-torn country in search of hope and a better life, are staying on the island, seeking asylum. The island is divided as some farmers are sympathetic about granting refugee status to the asylum seekers amid a sweeping backlash against the Yemeni refugees. The Yemenis initially flew to Malaysia where foreigners can stay up to 90 days without a visa. Unable to extend their stay in the Southeast Asian country, they looked for other visa-free destinations where they could stay permanently. South Korea, which grants asylum to refugees if strict conditions are met, has been emerging as an attractive destination.
The initial number of Yemenis on Jeju this year was 546, but some of them left and others went to other cities in Korea. The official said "People here heard a lot about what happened in Europe, such as Germany, after the influx of refugees. Citizens are concerned about security and their own safety. Facing the unprecedented immigration, the local government teamed up with the immigration service to place the refugees at fisheries and eateries that were wrestling with the shortages of labor. Of 486 Yemenis, 271 are employed, according to media reports. The local government plans to provide emergency medical relief for the Yemenis and also mulls ways to further assist the homeless refugees. "Depending on the work, the average wage of a guest worker is about 20 percent less than that of a Korean," A farmer said. People from diverse ethnic groups are working on Jeju farms. In recent years, Oh said, guest workers from Nepal and northeastern China have increased.
A heated debate about the asylum seekers has been underway online. Some opponents spread "Islamophobia" and allege the Yemenis are terrorists in the guise of refugees. They claim Korean women would suffer the consequences and could become victims of rape and sexual assaults just as what happened to victims of terrorist groups in other countries. However, there are some, mostly humanitarian workers, who are calling for assistance for the refugees and helping them settle on the island. Those who are sympathetic to the asylum seekers reminded fellow Koreans of how life for Koreans was in the 1960s. Back then, they say Korea was no different from today's Yemen. Korea also sent guest workers overseas, mostly nurses and miners, to Germany in search of healthcare and work.
Some 30 men and women gathered at Gwanghwamun Square in central Seoul on July 8 to express the "voices of refugees." Migrants from Nigeria, Burundi, Cameroon, Liberia, Congo and the Philippines from across Korea formed the group under the banner "Do You Hear the Refugees' Voice?" Representatives from the Ansan Migrant Center, which organized the event, and Osan Migrant Center accompanied the group.