News
Sister Kevin Celebrates 40th Anniversary of Profession
Posted on 02/13/2014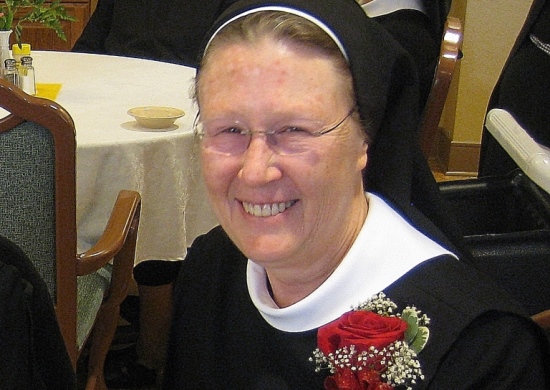 The feast of St. Scholastica was a special day for Sister Kevin Hermsen. She celebrated 40 years as a professed sister. She said, "It seems like just yesterday, I was this young woman walking down the aisle. I was talking to my mother and she didn't believe it had been 40 years." Sister Kevin remembers the day vividly. It was her brother's birthday and Easter Monday. Three celebrations wrapped into one day.
For over 30 years, Sister Kevin was a radiologist technician. For most of those they were spent working at Providence Medical Center in Wayne, Nebraska. They were excellent years with excellent coworkers and patients. She continued her work in healthcare until she was elected to the Prioress position in the Norfolk Priory.
She was prioress for 8 years which she says were stressful, but growing years for her. During her time as prioress the monastery was being renovated and the sisters divested from healthcare institutions. Sister Kevin said, "As St. Benedict says it's never easy to be in charge of souls because you'll be called to reckoning when the time comes. You do your best." As for being prepared for the job as prioress, she says, "I don't think you're ever prepared, but there's a grace of office. When you get elected God gives you the strength to do the job."
Lots of moments stood out for Sister Kevin over the last 40 years. She couldn't pick just one as the most memorable. "So many things happen like standing at the bedside of a dying sister, being elected as superior and making profession." They all stand out in their own way as well as countless other moments. As for what Sister Kevin is grateful for it's the community and the support of the community. She couldn't do what she does without her fellow sisters' support.
Have a problem or question? How can we help or pray for you? Our Sisters are waiting to talk or hear from you! Please call (402)371-3438, email khermsen@norfolk-osb.org or use the chat button on our website.