News
Vocation and Youth Ministry Team
Posted on 02/19/2014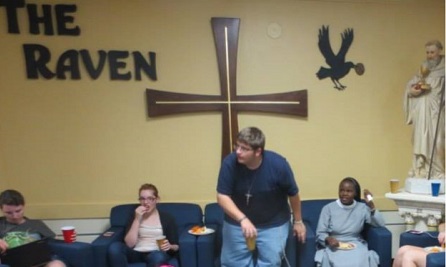 2013 proved to be a busy year for our vocation and youth ministry team. With the help of Br. Damian and some of our sisters, Nebraska Benedictines was created. The purpose of this team, Nebraska Benedictines, is to collaborate with our brothers as well as the monks in Elkhorn, NE in providing events for young adults. All of us have seen a strong desire in young adults for spiritual and social nourishment. Therefore, we are reaching out to youth especially ages 18-35 and have been putting on social events and spiritual programs.
So far we have had a great turnout with youth from all over the state. Besides hosting programs at our monastery or the St. Benedict center we decided to go out to where the youth are. In 2013 we held events at: Mount Marty College in Yankton, SD, USD in Vermillion, SD, and UNL in Lincoln, NE. The Benedictine sisters from Yankton have also joined us for some of those gatherings.
What types of events we offer at the colleges differ according to their needs. For example, we have dined with the students, went to Mass and Adoration with them, have shared Lectio, and given talks on different topics. We hope to be able to do something with college students or young adults every month and are continuing to plan and host events.
It has been enriching to be able to collaborate and work with other Benedictine communities in reaching out to the youth. This year has much in store and we continue to ask the Lord to bless our work and the youth we encounter.
Have a problem or question? How can we help or pray for you? Our Sisters are waiting to talk or hear from you! Please call (402)371-3438, email khermsen@norfolk-osb.org or use the chat button on our website.