News
Longtime volunteer opens heart to those in need
Posted on 12/05/2014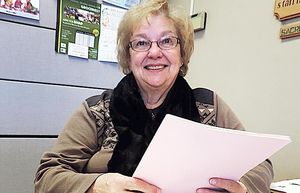 Mary Ann Wemhoff is a member of the Norfolk Priory Oblate Community, but she also spends her time Volunteering.
-
A father of seven children, two of them with special needs, and an eighth child on the way — and no income. A barefoot girl on a bitterly cold day without socks.
These are the types of needs that Mary Ann Wemhoff of Wisner has seen as a longtime volunteer with the Good Neighbors program in Norfolk.
The holiday campaign, which kicked off on Monday, is sponsored by the Norfolk Ministerial Association with assistance from the Daily News. This year's goal is $75,000.
Each Christmas, the program assists needy individuals and families within a 40-mile radius of Norfolk with food boxes and gifts for children.
Wemhoff began her volunteer work with the Good Neighbors in 2003, following the death of her farmer husband, Ron, in 2002. He was 59; the couple were married in 1969.
Hip surgery one year and knee surgery the next year kept Wemhoff from volunteering those years, but she was back for her 10th year Tuesday afternoon. She plans to volunteer each day the Good Neighbors office at 132 S. Fourth St. in downtown Norfolk is open this month.
She listens to people who tell of their hardships, sharing their needs for clothing, food, diapers and household items. Line by line, Wemhoff fills out the application as she asks them questions.
Sometimes all of the chairs are filled, with more people waiting in line for "things we take for granted," she said.
Each application is evaluated to see if it meets the Good Neighbors criteria; not all are accepted.
Of her first year of volunteering, Wemhoff said, "It really opened my eyes to the needs so close to where you live — and the children, my goodness!"
After hearing the story of the father of seven who stopped by the office Tuesday, Wemhoff said it made her feel that "I just want to go to their house and help them."
Over the years, Wemhoff has donated food, clothing and other items to the Good Neighbors. "Anything I can help with," said the mother of three and grandmother of six. "We all have so much stuff."
This year, Wemhoff also donated various items, even though many of her belongings were destroyed by a tornado on June 16 that flattened almost all of her Pilger farmstead located just north of the junction of highways 15 and 275.
It's where she had lived for 43 years; she is now renting a small house in Wisner. Most of her salvaged belongings — even if damaged — are in storage.
When asked if she would agree to be featured in a Good Neighbors story in the Daily News, Wemhoff was reluctant. She has not told her tornado experiences to any media, even though she has been asked to do so.
It especially pains her when she thinks of her house, all that is left standing on the farmstead. It's uninhabitable. She had finished remodeling the house last December.
It needs to be razed, but at this point, "I can't watch it go — yet," Wemhoff said.
Gone are the barn, the grain bins, the machine shed, the more than 300 trees she and her husband hand-planted.
She continued to hesitate about being part of a newspaper article.
"I don't want the story to be about me," Wemhoff said.
Focus on the Good Neighbors program and its need for not only monetary donations this month, but also other items — such as gently used or new clothing, food and whatever else a household might need, she said.
Assured that her personal part of the story would be downplayed, Wemhoff agreed to be interviewed — and if a photo is published, keep it small, she said.
Wemhoff described her work as a Good Neighbors volunteer as heartwarming. "It makes you appreciate what you have," she said.
The former Mary Ann Koehlmoos of Pilger is also proud of her work as a hospice volunteer since 1986 through the programs at the hospitals in Wayne and West Point. "I just love to do it," she said. "There's such a need for hospice."
Her Catholic faith is an integral component of her life.
"My faith is everything to me," said the member of St. Joseph's Catholic Church in Wisner. "It grounds me."
Her faith has strengthened her through the ordeals of life, including the death of her husband and the tornado. (She, son Tony and his two young children all escaped injury after seeking shelter in the basement just before the tornado hit.)
The path Wemhoff is now on isn't what she ever imagined, she said. But, she said, "God had another plan for me — a new chapter."
Allene Johnson, director of the Good Neighbors program, said she is grateful for the assistance Wemhoff has provided over the years.
"She is an amazing person," Johnson said. "Mary Ann is always smiling, even when I first saw her after the tornado."
Written by Mary Pat Hoag and printed in the Norfolk Daily News (12/4/14) http://m.norfolkdailynews.com/news/longtime-volunteer-opens-heart-to-those-in-need/article_401ac4d8-7bc4-11e4-aa31-4b384471eb97.html?mode=jqm#.VIDTAl6NP2A.facebook
Have a problem or question? How can we help or pray for you? Our Sisters are waiting to talk or hear from you! Please call (402)371-3438, email khermsen@norfolk-osb.org or use the chat button on our website.