News
A Dream Come True - Teen Ministry
Sr. Fidelis Marie Lanowich, OSB on 04/11/2016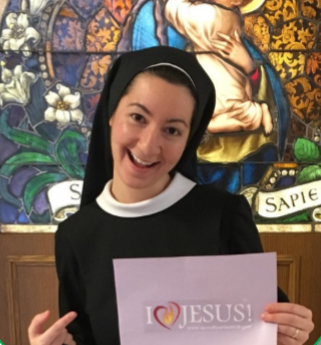 Starting June 1 I will be officially working in my new assignment as teen minister for Sacred Heart Parish in Norfolk. As teen minister I will be working at the Norfolk Catholic High school as campus minister with the 7th-12th graders, overseeing the 78th grade religious education program, overseeing the God-parenting program for 9-12th grade public school kids, running the youth camp that is offered over the summer, and arranging youth trips for the parish, as well as any other youth programs that may be needed.
One of the goals of my ministry is to help bridge the gap between Catholic school, kids public school kids,and home-schooled kids. As well as helping the youth become leaders in the parish and go out to minister to their own peers. In order to do this effectively I believe relational ministry needs to be a priority. In getting to know the youth and seeing what areas they would like to grow in their faith, my hope is to be able to continue to fan the flame of faith they have and encourage them to keep growing as followers of Christ. Another big part of this ministry will be working with the parents and staff at the school to help them grow in their faith as well so they are able to support the youth in their journey with Christ. This aspect may actually be the most challenging part of the ministry, as the current culture is not always inclined to placing a high priority on religion when it may conflict with sporting activities, academics, or other extracurricular activities.
However, in just a short amount of time I have been starting work with the current teen ministry leader, I can see that the youth and adults are hungry for God. My goal is to journey with them and lead them in the right direction in their faith walk. I know this job will be a lot of work and I am going learn a lot. I am excited and humbled to be in this position of working daily in an area I am so passionate about. I am grateful to the sisters for allowing me this time to be a part of this apostolate. I would ask for your continued prayers as I begin this new assignment in our parish. I know I will not be able to do this job without your support, guidance, and prayers. That in all things God may be glorified!