News
A New Ministry Experience
Sr. Madeleine Miller, OSB on 04/11/2016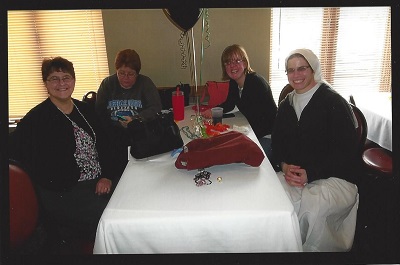 Early in January, the opportunity came up to begin an entirely new ministry for us here in Norfolk. A friend of our Priory, Jodi Ronspies, is the owner and director of a local agency that helps individuals who have disabilities. For nearly 20 years Jodi and her staff have provided both vocational and residential services for the clients. A member of the dedicated Employment Works staff retired after 14 years as Client Finance Supervisor, and Jodi needed someone right away to meet this need.
Despite my "strained relationship" with math growing up, I accepted Jodi's invitation to apply at Employment Works and give it a try. From the first day onward, I have learned many new things at Employment Works. God's grace has allowed me to conquer my fear of numbers and utilize my computer skills in order to assist people who have disabilities with their finances.
One of the most challenging but rewarding experiences has been helping a client who was without a home to find a new apartment and get back on his feet. He now has a safe place to live, some financial security, and a second chance. His whole outlook on life is positive now, and he is eager to get back to church. Seeing him become more independent, express gratitude, and be of service to others is very rewarding. In addition, helping each of our clients meet their daily needs and sometimes achieve their dreams is amazing. I still have a lot to learn, am counting on the prayers of others as well as God's grace to glorify Him in all I am doing at EW. I appreciate our Sisters' support in my ministry and hope others can join the Employment Works team in the future.