News
Ribbon Cutting for the New Animal Shelter
Sr. Kevin Hermsen, OSB on 04/11/2016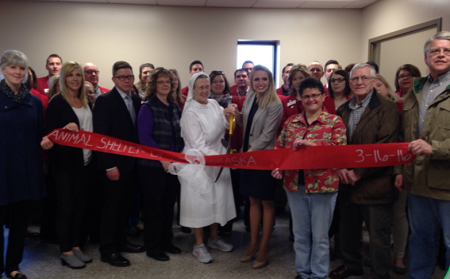 I have been a member the Board of Directors of the Animal Shelter of Northeast Nebraska since 2008. The goal of our organization was and is to construct and operate an animal shelter for Norfolk and surrounding counties to house homeless dogs and cats. The Board and many volunteers have been working since 1996 to construct the shelter, but because funding is totally from donations, fund raising events and grants, progress has been slow.
In 2014 the organization finally bought a building that had been a chicken hatchery and began renovation into a state of the art animal shelter. At long last, the ribbon cutting was held on March 16, 2016. The public open house will be held on April 9, 2016. Needless to say, there is a lot of emotion after all of the years of hard work to finally realize our goal.
Unfortunately, there are people who are not responsible pet owners and when they have a pet they no longer can take care of or want, they drive out into the rural countryside and dump the dog or cat leaving it helpless to fend for itself. Many farmers have experienced stray pets wandering onto their farm yards and currently there is not a place that will take the animal and find a new home for it in the area. Another unfortunate situation is when an elderly person must leave their home for a nursing home and cannot take their pets with them. The Animal Shelter of Northeast Nebraska will serve to re-home those pets for them. We will also take in pets of military men and women who are being deployed overseas.
The Shelter has had a large contingent of volunteers in the past several years who have taken in pets as fosters. This means the animal lives in the volunteers' home until they are adopted into their "forever home", and the Shelter pays for all of the needs of the animal during that time. In 2015 we rehomed more than 250 dogs and cats solely from the foster program! I view the Animal Shelter project as a ministry to God's creation. Our respect for other creatures and the world is part of our heritage as Benedictines