News
LIFETEEN: New Experience
Sister Ann Terese Dana, OSB on 10/05/2016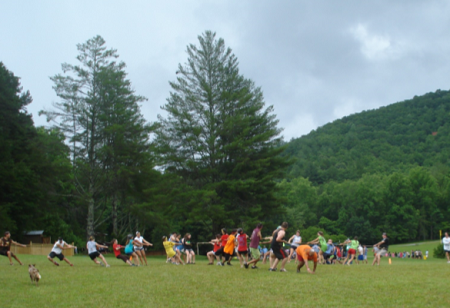 This summer I was graced by God and my community to be able to attend 1 week at Life/Teen Camp at Cove Crest in the state of Georgia, USA, with Sr. Celine. It was truly an uplifting, enlightening,energetic, and holy experience. We are asked to attend for our witness to the 200 high school age teens that attend in parish groups from around the country; of which, some have never seen or met a religious sister before. It is a ripe field for vocations not only among the teens, but also the staff who are mostly young missionaries themselves. I felt very welcomed by their enthusiasm, respectfulness, and openness to talk and share with Sr. Celine and myself.
The teens were amazing in participating in all events. The daytime events were meant to challenge, to bring teens together, and to help each other. It was a real bonding time in fun and meaningful exercises. One afternoon I went white river rafting with half the group. They thought that was pretty cool. The celebration of Mass came in late afternoon; and, weather permitting, outside by the large pond – one of my favorite memories. In the evening, all rallied around for praise and worship inside. I continue to be impressed with this generation of teens, seeing their reverence and total presence to the Presence of Jesus in the Eucharist in adoration – kneeling often on cement or hard floors.
This was a "go" and see experience for me this year. Hopefully I can attend another year, and bring a bit more appropriate attire to get in the "messy games" with them. I still will avoid the mud pit. We now pray and wait to see what fruits these trips will bring to help further the kingdom of God. I thank my fellow priory sisters for allowing my time away. May God bless all.