News
Benedictine Joins Heelan Faculty
Posted on 11/07/2016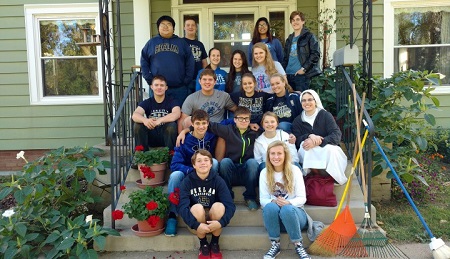 Benedictine Joins Heelan Faculty
By: Katie Borkowski, Catholic Globe
The Bishop Heelan High School staff gained a religious sister this school year – Sister Madeleine Miller, OSB. She teaches juniors and seniors in their theology classes (salvation history and social justice).
"I love the joyful spirit and strong Catholic identity at Bishop Heelan," said Sister Madeleine. "Working with our outstanding faculty and with Father Shane Deman, our chaplain, is an honor. All the members of the Heelan community are blessings to the Sioux City area."
She thanked Bishop Walker Nickless, Heelan Principal Chris Bork, Father Deman and the Heelan community "for welcoming me and the Missionary Benedictine Sisters with open arms."
Before teaching at Bishop Heelan, Sister Madeleine taught at St. Augustine Indian Mission in Winnebago, Neb., at Norfolk (Neb.) Catholic High School and at Wayne (Neb.) State College
Growing up
Sister Madeleine is originally from Akron, Ohio. Both her parents are social workers and "love helping abused children and their families."
"While growing up, I learned the value of serving others without counting the cost," Sister Madeleine said. "They (my parents) encouraged me to find my passion and to pursue it wholeheartedly as well."
In kindergarten and first grade, she went to a Catholic school with sisters.
"Even at that young age, I felt drawn to the sacraments. It took years for me to fully discover that even then, God planted a desire to give my whole life to Jesus and his church," said Sister Madeleine, who surprisingly did not grow up Catholic.
"We attended numerous Protestant churches along the way, but ultimately joined the Episcopal Church," she said. "I loved singing in the choir, having fun with my friends and playing sports."
Exploring faith
After graduating from high school, she enrolled at Colby College in Waterville, Maine. While at Colby, Sister Madeleine studied political science and religious studies, while rowing on the varsity crew team.
"I increasingly became interested in God and faith along the way and even took a class on Catholicism," she said. "I would actually read the text in the back of our Episcopal church; it was an adventure."
Sister Madeleine spent her junior year studying abroad in France and Scotland.
"While there, I began to explore my faith in a personal way and attended several Masses out of curiosity," she said. "I also spent time at a men's monastery that served young people of all faiths called Taize. This helped me to begin exploring my own path and call in life."
Sister Madeleine had the opportunity to meet priests, brothers and sisters while overseas and then, in the United States. She said their "lives of prayer, service and joy strongly attracted me and felt like what I had been searching for my whole life."
During Sister Madeleine's senior year, a good friend took her own life after 9/11, and "I really asked myself where I was going in life."
"This helped me to decide not to live my life for anything or anyone but the Lord," she said. "Despite the strong opposition from family and friends, God gave me the grace to seek to be received into the Catholic Church in the spring of my senior year. This was joyful and challenging and changed my life's path drastically. Making my first confession and receiving Christ in the Holy Eucharist for the first time was a joy beyond words."
Change of plans
Though it wasn't in her original plans, Sister Madeleine decided her next step would be graduate school. She received her MA in religious studies from the University of Chicago Divinity School.
"While there, I met some outstanding Discalced Carmelite friars who adopted me and helped me seek God's plan for my life," said Sister Madeleine. "God gave me a wonderful spiritual director, Father Michael Berry, OCD, when I was in graduate school. He helped me name and pursue my vocation to religious life, as I grew in my newly-embraced Catholic faith."
After graduate school, Sister Madeleine continued to discern and worked for the Daughters of St. Paul in their bookstore and then did campus ministry at the University of Wisconsin-Madison. She later attended Wayne State College in Nebraska.
"After visiting a number of communities around the country and spending time with different congregations, I met two of our Missionary Benedictine Sisters at a conference," Sister Madeleine said. "Their joy, authenticity and love for the church moved me deeply. The community's balance of community life and international missionary service inspired me profoundly."
When she visited the community in Norfolk, Sister Madeleine felt "very much at home."
"It was everything I was looking for, despite the challenges of saying 'yes' to the Lord with friends and family who didn't understand my vocation," she said. "Ultimately, I knew God was calling me to give my whole life to him as his bride through our Missionary Benedictine way of life."
She professed her final vows with her classmate, Sister Fidelis Marie, on Oct. 24, 2015.
Originally Published: http://www.catholicglobe.org/?p=8957