News
United States Catholic Mission Association Conference
Sister Gabriella Urian, OSB on 01/11/2017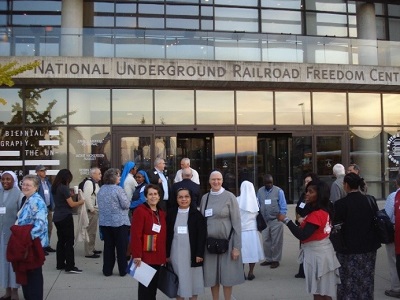 Sr. Michael Marie and myself attended the United States Catholic mission association conference in Cincinnati Ohio. Actually we landed in Kentucky across the Ohio River. So we were in 2 states at the same time. The theme was Together in Mission. There were 157 participants from many congregations of men and women as well as lay missionaries and mission partners. Because of their missionary experiences coming from the missions all over the world, whether it is a short term or long term mission it was very interesting to hear their stories and experiences abroad and at home. Some very challenging but edifying and encouraging. We had 5 good keynote speakers. One of the things that we heard a lot during the 1st part of the conference was slavery.
Dr. Clarence Newsome, one of the keynote speakers, spoke about slavery. He is the president of the National underground Railway Freedom Center, and he is known for his academic work in African American history and culture as well as religious history. He talked about the tragic history brought about by slavery in the 18th Century in the US, the transatlantic slavery, and intermarriages. He characterized a slave, a slave is only 3/5 of a person, can't own his/her own dreams, even his/her tears, slave is also compared like a shoes, one can make use of it as good and evil, the shoes can give you a service and when you don't want any more you can throw it away.
Then another key speaker, Lara Green- Program Manager of End Slavery Now at the NURFC, was involved in the fight against modern day slavery. The seeds of freedom fighting were planted in her heart in 2010 and took root during a 2013 mission trip to Kolkota India where she witnessed the powerful redemption and restoration of sex trafficking survivors.
She said in her talk, slavery continues today….we call it Human trafficking, the modern day slavery. There are 45 million modern slaves today….in our time. 1.2 M are trafficked every year mainly for Sex trafficking---for profit these are young girls, children--- and Labor trafficking—kidnapped and compelled to forced work,; 21M are enslaved today; 18.4 M exploited privately or publicly. SLAVERY is a $150 billion industry. Traffickers make a lot of money each year by enslaving others. Other forms of slavery today: forced labor, forced commercial sex, forced marriage, child labor, domestic violence. She showed us videos that are heartbreaking.
Modern slavery is a big challenge in our world today. So slavery really continuous, WE are challenged, everyone is challenged to end slavery today. At the museum, there was a burning flame like a torch…. Symbol of freedom—love burning in our hearts. The fire burning is a symbol of our mission……our mission to continue to take a courageous step for freedom today. It is sad to hear the fact that throughout history and in present times, people have enslaved others for their own personal gain. What can we do to end slavery now?
One way-find out how many slaves work for the products we buy. How much is the average cost of a slave today? ($90) In 1809 the average price of a slave was $40,000. Which is cheaper today or centuries ago?
We definitely have a lot to think on as we move forward and wish to make human dignity a reality for all.