News
Bishop Heelan Dominican Republic Mission Trip 2017
Sister Madeleine Miller, OSB on 07/14/2017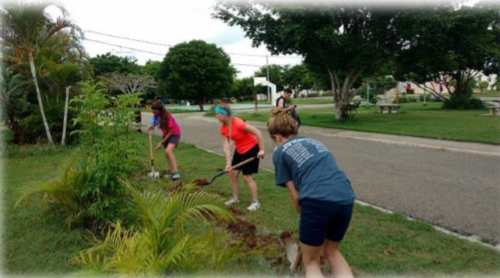 Early on Sunday morning, June 4th, Father Patrick and I took off from Omaha with 14 of our Bishop Heelan students to serve for a week at an orphanage in the Dominican Republic. None of us knew exactly what to expect, but trusted that God would do incredible things in and through our students during the trip. Miraculously we got everyone on the 4 am airport shuttle, and got in the air safely after Father said a blessing for our trip.
Once we arrived in the thatched-roof airport in Punta Cana, our Dominican adventure began. As we drove to the orphanage, we left behind the area for tourists and traveled into the poorer villages. For six of our students, this was their first time leaving the US, and everything was very eye-opening for them in a unique way. As we all left behind our comfort zone, we learned anew that true joy comes from our faith, family, community and generosity rather than in material comfort.
After pulling in to the orphanage compound, the staff, volunteers and children welcomed us with open arms. The kids never stopped smiling, hugging us, or asking to take selfies. It's amazing that small children halfway around the world can use our cell phones better than we can! Even though we were only there a short time, everyone showed us great love and welcome.
Throughout the week, our group started the day with Holy Mass. In the mornings we helped construct a new agricultural education building for the school and continued work on a new fence for the boys' houses. At this orphanage called Nuestros Pequenos Hermanos (NPH), the children live in family-size groups with "tias" who care for them. They all go to school together, and many go on to university. The graduates all spend a year giving service back to their NPH family, and all say how profound a difference NPH has made in their lives.

Our students loved spending afternoons playing with the children throughout the week as well. We had prayer time and talks in the evenings, as well as Adoration with Confession on Wednesday. On Tuesday night we traveled to nearby San Pedro to have Mass in the Cathedral with the bishop who changed his plans so he could celebrate Mass for us and welcome us. Then on Friday, we enjoyed an outing to a nearby beach before leaving for the US on Saturday.
Our students had many opportunities to learn about missionary life throughout our trip. They found a giant tarantula in their cabin late one night, and came to appreciate cold showers after sweating in the heat during work time. Despite the many challenges, our students wanted to stay or bring the orphanage children home with us as we left Saturday. As Father Patrick said in his closing homily, when it is hard to leave it means we have loved, and that is always God's gift and a blessing.
We hope to continue the tradition of taking students from Bishop Heelan High School overseas to the missions in the coming years, and many of this year's participants already want to go again, for which we are grateful. Please continue to pray that the Holy Spirit will bless the NPH orphanage and our students as they go off to college in a few months.