News
Called By Name Vocations Conference
Sister Inviolata Mukhaabi, OSB on 02/12/2018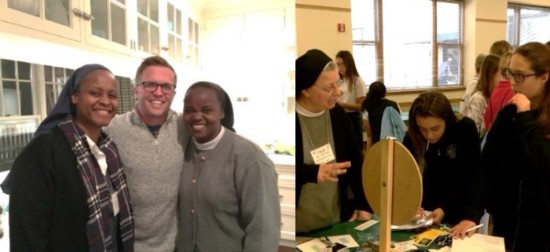 Once again this year we participated in the Diocese of Joliet's Vocation Conference from November 7-10, 2017. This events brings together Catholic high school students from across the diocese of Joliet. The students arrive every day at around 8:30 am and leave around 2:30 p.m. Approximately 800 students attend every day. In the evenings one night is reserved for those students in the Religious Education programs. These programs are for those students who attend non-Catholic schools.
The event is a combination of talks, activities, Eucharistic adoration as well as confessions. The theme as indicated in the conference name is Isaiah 43: "I have called you by name." There is one host for the entire event who shares his or her experience of God with the students. For this year we had Jimmy Mitchell, a dynamic young adult who loves journeying with young people as their 'Big Brother" in Christ.
As a vocations conference, several religious communities are represented and each gets a table where they can display something about their communities. The students go around and visit with the religious men and women about their various communities. It is a very engaging time since the students have questions they are supposed to ask at the tables and write down the answers, including the name of the person they talked with at the table.
Sr. Celine and I had a wonderful time engaging the students. We had a trivia game which we played with them and they could win prizes. That was fun. As always, I also value the encounters I have with other religious men and women. It was also bitter-sweet as part of me was saying goodbye to most of them who have been part of my circle of friends over the past 4 years. It is just so encouraging to see young people interested in learning about their vocations and asking serious questions about discernment. Nothing is more fulfilling to me than helping the young people encounter God and relate that experience and how God is moving in them. That has been my greatest joy as the Vocations director.