News
John 15 Lifeteen Retreat
Sister Fidelis Marie Lanowich, OSB on 02/12/2018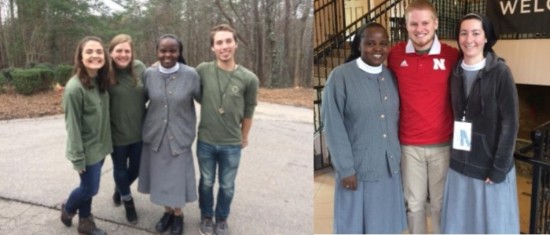 On December 18-21, Sr. Inviolata and I attended the John 15 retreat at Camp Hidden Lake in Georgia. This is a retreat that Lifeteen has for any of the youth who have served as a missionary for their summer camps. The whole retreat was based off of the Bible passage of John 15 and each talk that was given highlighted a different element of the text.
There were over 200 summer missionaries who came back to make the retreat, and Sr. Inviolata and I were among the 5 religious sister who came to serve on the leadership team, along with priests, and other religious. During the retreat students could sign up to meet one on one with the various religious present to talk about life and receive prayer.
t was a wonderful experience for me and one of my favorite events thus far. The missionaries came to the retreat ready to go all in and they were very open about where they were in life, their joys and their struggles. It was enjoyable to see them reunite with other youth they served with on mission and the see the bonds that were formed at camp have remained strong since.
I am grateful for the opportunity to have been able to attend and be on the leadership team for this retreat. May God continue to bless all the hard work and efforts of Lifeteen and all their summer missionaries!