News
Benedictine Convent to Open at Holy Cross in Sioux City
Posted on 02/27/2018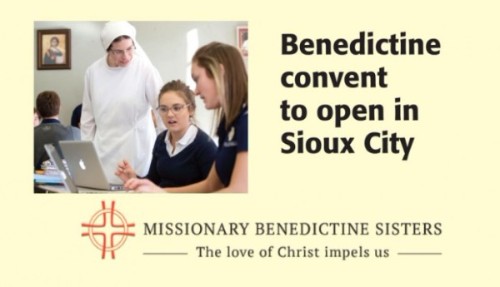 With one Missionary Benedictine Sister already serving in Sioux City, this summer the religious community's presence will expand.
According to Father Shane Deman, diocesan director of vocations, a new convent will be established in the current rectory at St. Michael Church – Holy Cross Parish in Sioux City. The pastor of that parish, Father David Hemann, made the announcement to his parishioners at Mass the weekend of Feb. 10-11.
"In August, the Missionary Benedictine Sisters of Norfolk, Neb., will begin ministry in Holy Cross Parish," he said. "Four Missionary Benedictine Sisters will arrive this summer, along with two Vietnamese sisters of the Congregation of the Lover of the Holy Cross."
The establishment of the new convent comes with the blessings of Bishop Walker Nickless of the Diocese of Sioux City.
"There has been a long-standing tradition of women religious serving in the Diocese of Sioux City," the bishop said. "The arrival of these Benedictine Sisters keeps that tradition alive. The presence of consecrated religious enriches our diocese as all the vocations support one another and highlight the bountiful goodness of God."
Those who have consecrated themselves as brides of Christ, Bishop Nickless added, are reminders of the heavenly glory to which all are called.
"Any authentic commitment to Christ, regardless of the vocation, will help our young people to be open to following the will of God," Father Deman said.
The bishop pointed out that Father Deman, in his role as vocations director, has always been eager to have more religious communities of women in the diocese.
"It's a good way for him to promote vocations," said Bishop Nickless. "Since he became vocations director, we have visited three different communities. The latest one was the Benedictine Sisters. We had heard they were interested in expanding because they have a large group of sisters there in Norfolk."
One of the community's sisters, Sister Madeleine Miller, serves in the diocese at Bishop Heelan High School in Sioux City. That made the prospects of sending more sisters to minister here a viable option.
"We visited their monastery in Norfolk and had a great visit with their leadership," Bishop Nickless said. "They took it to discussion and prayer and decided to accept our offer to come to Sioux City."
Initially, he acknowledged, the diocese was exploring various ministries in which the sisters could work.
"As it unfolded, they made themselves available with an offer to do spiritual direction and parish pastoral work," said Bishop Nickless, who noted they will begin their work in Holy Cross Parish and possibly expand to other city parishes in the future.
While their ministry will be parish-based at first, Father Deman anticipates that their public events such as retreats and adult faith formation events will be available to all.
Sister Pia Portmann, OSB, current prioress of the Benedictine Monastery in Norfolk, welcomes this new opportunity. She thanked Bishop Nickless for the invitation.
"Part of our charism is that we participate in the mission of the church by our work of evangelization," Sister Pia said. "We serve where the church is in need."
The prioress believes that helping with adult catechesis and spiritual direction will benefit the local church in its need for renewed evangelization. The sisters' outreach to a new diocese also helps them broaden their ministries and attract future religious vocations.
"Another plus for the community of sisters was that they have two Vietnamese sisters from another community living with them in Norfolk to learn English and get a college degree," said Bishop Nickless, who noted they have earned their associate's and now want to work on their bachelor's.
The diocese is going to collaborate with Briar Cliff University to help them achieve their education and the Vietnamese sisters will minister to the Vietnamese community at Cathedral Parish in Sioux City.
The international order of Missionary Benedictines, noted Father Deman, has mission sites around the world, yet here in the United States, their presence has been focused in Norfolk and a convent in Winnebago, Neb.
"I look forward to the Benedictine charism being planted and growing in the diocese," Bishop Nickless said.
By RENEE WEBB
rwebb@catholicglobe.org
http://www.catholicglobe.org/?p=13657