News
New Evangelization for the Norfolk Priory!
Posted on 08/20/2018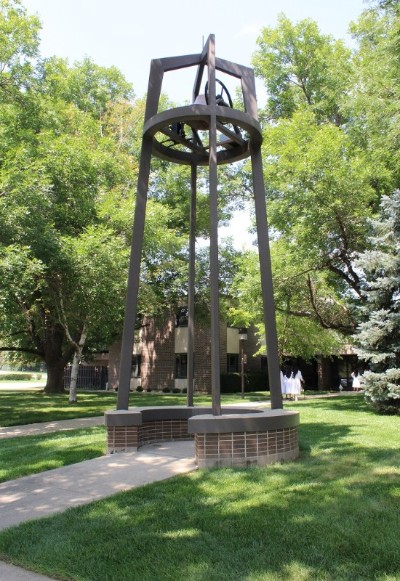 It's been a year and a half since Bishop Walker Nickless made his first visit to Immaculata Monastery asking if we would have sisters to serve in the Sioux City, Iowa, Diocese.  Sr. Pia Portmann, prioress at the time, said his well-thought out plan and sincere welcome gave the community a sense that the Spirit was pointing the way.  Bishop Nickless' proposal to focus on adult spiritual formation seemed a perfect fit for us.  Ongoing discussions, prayer and necessary permissions confirmed the plan and dates were set.
The Rite of Founding the new Holy Cross Community took place at the Immaculata Monastery Chapel during Midday Prayer on August 12.  Four sisters form the new community: Sr. Gabrielle Marie Oestreich (superior), Sr. Pia Portmann, Sr. Carole Ann Clark and Sr. Fidelis Marie Lanowich.  Vietnamese Sisters, Sr. Cecilia Tot and Sr. Rosa Hang, will be residing at Holy Cross community while attending the University of Briar Cliff.  Bishop Nickless blessed the new Holy Cross Convent and Community on the Solemnity of the Assumption, August 15 with over seventy clergy, sisters and laity present.
This decision is part of a decade-long discernment of the Norfolk Priory.  Considering the critical needs in our Church and our own demographics, it was clear that our ministry focus would have to shift from being primarily health care to spiritual care.  In the past decade the community has divested all its health care institutions and reinvested our resources into the Immaculata Monastery and Spirituality Center.  The establishment of the new Holy Cross Community is another step in our efforts toward New Evangelization, this time reaching out in a diocese and state that we have not served in before now. 
The community feels a deep gratitude to the Spirit for this opportunity, to Bishop Nickless for the invitation to serve in his diocese and to the Holy Cross pastor, Fr. David Hemann, for the fine arrangements for the new Holy Cross Convent.