Sr. Josephine Ewertz, OSB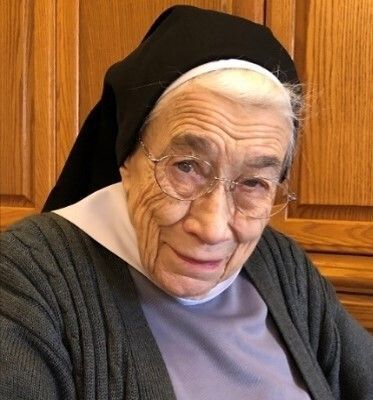 Sr. M. Josephine Ewertz 
December 26, 1925 – May 3, 2023
As if a gift of the shepherds, Dorothy Mary Ann Ewertz was born on December 26, 1925, to Lewis and Mildred Winter-Ewertz and lived on a small wheat farm near the village of Colwich, Kansas.  Dorothy was the second oldest of five children. 
Dorothy attended Catholic Grade School and then went on to the public high school.   Fr. Bissenbock was influential in her spiritual life, as well as her two maternal aunts who were religious sisters.  After some years of work at the 4th National Bank of Wichita, Dorothy entered the Missionary Benedictine Sisters in 1946 and professed her final vows on December 12, 1950.  
Sr. Josephine was highly gifted and always practical and down-to-earth.  She eventually took up studies in education at Mt. Marty College in Yankton, South Dakota.  As was customary, Sr. Josephine started teaching during the school year while working toward her degree by taking summer classes.  She graduated in 1966. 
Sr. Josephine loved teaching and was very dedicated to this mission.  She taught from 1956-1992 in Madison, Raeville, Wayne, Columbus and Winnebago.  Within those years she sought more time for prayer and sacrifice, so at the age of 48, (1973) she joined the Passionist nuns of Ellisville, Missouri.  However, because of the severity of their life, after six months she returned to the community in Norfolk and resumed her teaching career.
In 1992 Sr. Josephine retired from teaching and began the next phase of her generous and heart-felt service within the monastery.  One could find her in a number of departments in the monastery or St. Joseph's Nursing Home.  No matter what Sr. Josephine did, she was always dedicated, prayerful and hard-working.  When her energy did not allow her to continue these activities, prayer clearly became her primary ministry. 
Throughout her life, Sr. Josephine maintained a deep love for her family and commitment to her religious life.  When reflecting on her life, Sr. Josephine wrote, "The companionship of my sisters was very uplifting.  I will forever be grateful for spending my life with persons who have the same goals and give so many good examples and helps for reaching that goal."  Celebrating her 70th Jubilee of religious profession in September 2022 was a particular joy for her. 
By January 2023 Sr. Josephine's overall strength was in decline.  At 3:30 a.m. on May 3, the Lord fulfilled her lifelong desire to be with Him forever.   

Sr. Josephine was proceeded in death by her parents, Lewis and Mildred Winter-Ewertz, and her four siblings: Louise Shepard, Sr. Mary Placid, Carl and George. 
Funeral Information
Friday,    May 12, 6:30 Visitation, 7:00 Wake
Saturday, May 13, 10:30 Mass, Burial, Lunch