Africa
The Blessing of the Memorial Hut of the Late Archbishop Bonifatius Haushiku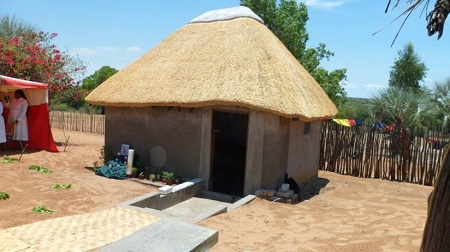 In the compound of our sisters' convent in Namuntuntu, at the western part of Kavango Region, stands a hut where the late Archbishop used to spend his holidays from 1987 until his death in June 2002. The faithful of the Vicariate of Rundu have long been asking for a memorial place of the late Archbishop Haushiku, the first Namibian Archbishop of the Archdiocese of Windhoek, Namibia. Having asked the permission of Archbishop Liborius Nashenda, OMI of the Archdiocese of Windhoek, and Bishop Joseph Shikongo, OMI of the Vicariate of Rundu, the Missionary Benedictine Sisters of Windhoek Priory undertook the necessary repairs of this hut which would be the Memorial Hut of the late Archbishop.
At the end of the Eucharistic Celebration was the blessing of this Memorial Hut on November 16, 2013. In his homily, Father Maurus Kantana, emphasized that it was faith which brought us together in this gathering. The late Archbishop Haushiku was himself a man of prayer and faith. He personified the above two elements making him radiate peace and light to all. The little and simple memorial hut standing on a little hill at Namuntuntu facing the Kavango River should be a monument reminding the Namibians of their great son of Faith, Hope, and Love. Everyone whether old or young, Christian or Non-Christian, Namibian or Non-Namibian, Lutheran, Anglican or Catholic is cordially invited to visit this simple memorial hut and join us pray the following prayer written inside: "Lord Jesus Christ, our Savior and Redeemer, we thank you for the gift of Archbishop Bonifatius Haushiku as our shepherd. He proclaimed the Word of God to us as a source of joy and salvation. We bring our petitions to you and through his intercession, we ask you to hear our prayer. Amen."
Have a problem or question? How can we help or pray for you? Our Sisters are waiting to talk or hear from you! Please call (402)371-3438, email khermsen@norfolk-osb.org or use the chat button on our website.