Africa
Tondoro Community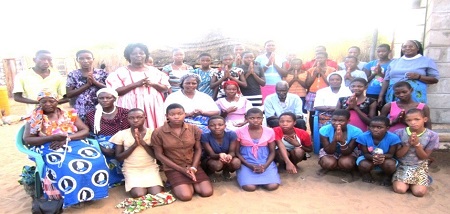 As Missionary Benedictine Sisters of Tutzing at Tondoro Mission, we are working mostly with the poor, the orphans and the youth. During the Lenten Season, we try to be with the poor to feed them and to be with them sometimes to share with them and enjoy so that they may feel our presence. The Bushmen were so happy and made funny things while dancing and joking. Some of them come anytime they need help especially when they are hungry and we do try to help them with what we have. But most of the time we realize that we are not really close to the Bushmen, that's why in Lent we take time to be with them.
When they come before eating we do ask them if they know God. Some say "Yes" but some answered, "Yes, he is there in the church." They were so happy even we and Fr. Timotheo, who joined us were very happy. Until now they still ask, "When are you calling us again, Sisters?" It is a good pastoral work as well. We sincerely thank and appreciate the Mother Maria Ignatius and our benefactors for helping us and enabling us to help the students who cannot afford their school fees, hostel and the material things. We are very glad to help some clever kids but poverty makes them not perform well.
In October, the month of the Holy Rosary, we do pray the rosary every day. As a missionary Community, we take some days to move in the village to pray with the old people as we know that some are no longer able to reach the church. It was a privilege for us to find them ready and eager to pray. When we go in the house, the neighbors come and you find the house full. We used to go with some youth especially the Bloukring group (Mother Mary's Youth group) who are dedicated to Mother Mary to visit.
Have a problem or question? How can we help or pray for you? Our Sisters are waiting to talk or hear from you! Please call (402)371-3438, email khermsen@norfolk-osb.org or use the chat button on our website.