Africa
Namibian Sisters Sent to Overseas Mission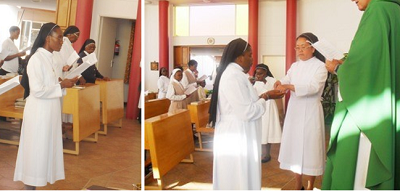 It was on a Sunday when both Sr. Maria Paula Mwendjilile,OSB (03 February 2015) and Sr. Mary Clemens Hamukoto, OSB ( 22 February 2015) joyfully received their mission cross from Mother Mary Thomas Prado, OSB during the simple but meaningful mission sending rite within the holy mass in our chapel. Fr. Rick Bauer, MM, presider, blessed them, the mission cross and the bible symbolic of the Word of God they will proclaim. Both missionaries asked for God's strength and faithfulness to love Him wherever they go.
Sr. Maria Paula left for her mission assignment in Argentina on 03 February 2015, while Sr. Mary Clemens left for Bulgaria on 02 March 2015. We thanked them for their willingness and courage to go to foreign mission. In turn, both thanked the whole community for their prayers and love.
This sending of Namibian Sisters to overseas mission is a radical shift in our Priory. As an international congregation, Windhoek Priory has been a recipient of foreign missionaries for many years. Now we have become a "sending priory." Namibian Sisters are participating in God's mission in Rome, Germany, Brazil, Argentina and Bulgaria. We thank God for this call and we wish our overseas missionaries God's blessings in their mission that it may bear fruit for the kingdom.
Have a problem or question? How can we help or pray for you? Our Sisters are waiting to talk or hear from you! Please call (402)371-3438, email khermsen@norfolk-osb.org or use the chat button on our website.