Africa
Meeting of Korean Missionaries of Africa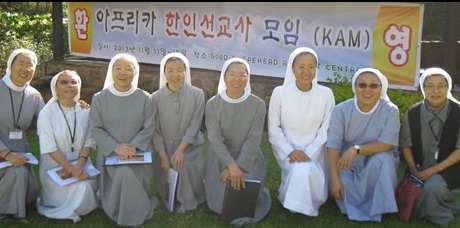 From November 10-17, 2013 a meeting of Korean missionaries in Africa was held in Johannesburg, South Africa. We were greatly encouraged by our being together in the calm and peaceful atmosphere of Good Shepherd Retreat Center.
The meeting was prepared and financed by the Korean Dioceses inviting all Koreans who are working as missionaries in Africa. According to statistics there were presently 96 Korean missionaries all over Africa. This annual meeting started only last year and is since then going well. The number of participants were 45, the number of countries 15 such as South Sudan, Central Africa, Zambia, Morocco, Namibia, Tanzania, Kenya, etc. We came together from different situations and different places e.g. from Central Africa with the danger of developing Civil War. We shared a lot about our experiences. It didn't take a long time to get along with each other since we have the same mission and vision, even if from different congregations.
The meeting's slogan was "Be hope for the world", being the reason for our presence here in Africa. Africa is for us Koreans a foreign continent. As missionaries, we have to show hope to the people around us. Also Bishop Jung Shin Chul, who took part in the meeting, emphasized unity: all of us are connected with each other like parts of the body. If one part is sick, others are affected too. This means, we influence each other.
From our congregation of Missionary Benedictine Sisters of Tutzing, 8 sisters participated, 3 from Tanzania, 3 from Namibia and 2 from Kenya. Unfortunately one sister from Angola and one from Uganda could not come to the meeting. Korean parishioners living in Johannesburg contributed a lot for the meeting such as supplying us with Korean food at every meal. Whenever we saw them bringing it, we were deeply touched. It was beyond description!
Fr. Domenico's son prepared the timetable of the meeting very well with abundant time for sharing. We had Holy Mass and common prayer every day and one day for adoration. The liturgy was based on themes of our meeting, and energized us. On the last day of the meeting, Archbishop Buti of Johannesburg came to congratulate us and bless the meeting. We were moved by his visit and had our last mass with him.
We really had a wonderful meeting. I am grateful to all who made it possible for me to participate. As missionaries in a foreign country we are struggling with difficult situations like misunderstandings. However, by the grace of God we can overcome them. Through prayer we can obtain energy, receive encouragement and empowerment from our God.
Have a problem or question? How can we help or pray for you? Our Sisters are waiting to talk or hear from you! Please call (402)371-3438, email khermsen@norfolk-osb.org or use the chat button on our website.