Africa
Sr. Athanasia's 85th Birthday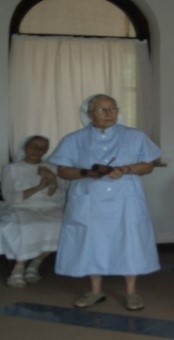 A model and an example to follow in the way of life. With gratitude to God, on April 25th this year, we held the 85th birthday of Sr. Athanasia Simon OSB. Still strong, still eager to offer her service in our priory house and outstations. We planned to celebrate some days later on May 2nd so that we may join it with Sr. Sigirada. Sr. Athanasia requested that we should not have a long program for her. Acknowledging her presence, we were willing to celebrate but on the other hand we respected her wish, of course we could not let it pass by. We came an agreement to have a solemn mass presided by Abbot Dionys OSB. After the mass we came out in procession, singing and dancing with our drums to the community recreation.
Unfortunately, Sr. Sigirada could not make it since bishop Bruno of Lindi Diocese abruptly sent a message that on the 3rd, some Christians from the Diocese will come for pilgrimage to Sr. Walburga's place. So Sr. Sigirada and Nyangao community had to prepare for them. Therefore, we went ahead of not changing the date. As simple as Sr. Athanasia requested, we had a song from the novices and a cake. After that we went to the refectory for breakfast. May the Lord continue showering His blessings upon Sr. Athanasia. May He fill her days with much joy. May He grant us that Spirit of working tirelessly, to be faithful to our vocation and taking our duties responsibly. We are happy to be with you dear Sr. Athanasia. Long life Sr. Athanasia and remain blessed as well as Sr. Sigirada
Have a problem or question? How can we help or pray for you? Our Sisters are waiting to talk or hear from you! Please call (402)371-3438, email khermsen@norfolk-osb.org or use the chat button on our website.