Africa
Rule of St. Benedict Conference
In memory of the 125th anniversary of the destruction of Pugu Mission, Benedictines from Sub-Sahara Africa were invited to attend a five-day conference by Sr. Aquinata Böckmann, OSB, on the Rule of St. Benedict at the Tanzania Episcopal Conference (TEC) Center in Dar es Salaam.
Forty-seven Benedictine monks and sisters attended this conference from six countries. Eighteen Missionary Benedictine Sisters attended this part of the conference.
Sr. Aquinata focused on:
• The cultural, church and political context of Benedict
• Chapter 58 and related chapters
• Chapter 72
• The place of Christ in the Rule
In addition to the rich input from Sr. Aquinata, the sharing and encounter with other monastics was especially rich and certainly appreciated by all who attended.
August 24th was our day to travel to Pugu and Msimbazi to remember our early Missionary Benedictine Brothers and Sisters who gave their lives for Christ.
Background
The first Benedictines (that we know of) to Sub-Sahara Africa were the Missionary Benedictine Monks and Sisters. The monks arrived in Dar es Salaam on January 29, 1888. Fr. Bonifatius Fleschutz, and several monks purchased land in Pugu, about 20 km southwest of Dar es Salaam. By March the first four sisters joined them to begin their missionary work.
From the beginning the monks and sisters suffered from the harsh climate and tropical diseases. The superior's greatest concern was the poor health of his missionaries. They were constantly troubled by the fever and nutrition was inadequate. Br. Wendelin Schön was the first to die March 28, 1888, probably of heat stroke. Sr. Lioba Elwanger was the first sister to die August 14, 1988, probably of malaria.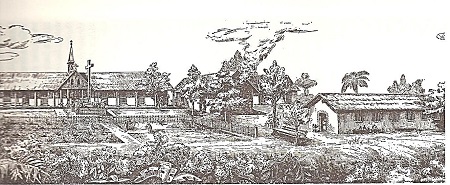 A village was constructed and freed slaves lived and worked together with the missionaries. However, tension replaced the peace when political unrest arose in the country. On Sunday, January 13, 1889, the Arab leader Bushiri, led the attack on the mission along with several hundred rebels. Brother Petrus Michel, Brother Benedikt Kantwerg and Sr. Martha Wansing were fatally struck by bullets. Some of the children under their care were stabbed to death. The mission was burned. Two brothers escaped three brothers and one sister were fettered like slaves and led away as prisoners. By March 11 all the missionaries were released in exchange for ten Arab prisoners in German captivity and the payment of 6000 rupees.
The visit to the cemetery at Msimbazi seemed to bring us face-to-face with the intensity of commitment and sacrifice of our first missionaries. Their readiness to suffer and to die was a "normal" part of being a missionary.
Have a problem or question? How can we help or pray for you? Our Sisters are waiting to talk or hear from you! Please call (402)371-3438, email khermsen@norfolk-osb.org or use the chat button on our website.