Africa
Jinja's First Missionary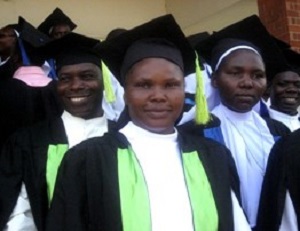 On its 18th anniversary of foundation, the community of Sisters in Jinja sent its first missionary. Sr. Agnes Aiso, OSB left on October 14, 2013 for her foreign mission in Peramiho. It was a long journey of waiting for Sr. Agnes, OSB, which began with the processing of the renewal of her passport that took more than six months. The journey continued to be time consuming as Sr. Agnes waited for over five hours for the bus that would take her to Dar-es-Salaam. Nevertheless, it was exciting to see Sr. Aiso begin her new journey to Peramiho.
On the night before her departure, the sisters gathered together to share what they will miss about Sr. Agnes and their prayers for her as she travels for her. Some expressed their sentiments in songs and in dance and on the following day, the Holy Mass was celebrated for her intention.
The Jinja community will surely miss Sr. Agnes' sense of humor and her invaluable help to the community's farm because of her training in organic farming and sustainable agriculture in KULIKA. Kulika is an NGO engaged in the promotion of sustainable agriculture. The community's need cannot compromise its commitment to the missionary work of the congregation; therefore as the community has to say, "Godspeed!" to Sr. Agnes.
Have a problem or question? How can we help or pray for you? Our Sisters are waiting to talk or hear from you! Please call (402)371-3438, email khermsen@norfolk-osb.org or use the chat button on our website.