Africa
Juniorate Encounter and Get-Together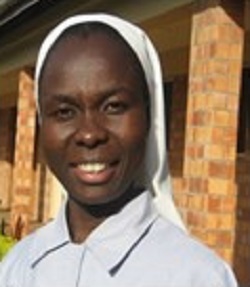 On August 6, 2013 two of us, Junior Sisters, from Jinja went to Nairobi for the Juniorate Encounter/Get-Together program. We started our journey at nine in the evening and arrived at ten in the morning the next day. It was a good journey and we arrived safely without incident. However, we arrived on the first Sunday of the month, a Statio day, everyone was in prayer and in a quiet mode. It was not until later that evening that we were welcomed by the community. We enjoyed our welcome!
Nairobi, being our second home, is nothing new to us; therefore, we felt at home right away. We were full of excitement meeting our fellow juniors. Because of the tight schedule, we kicked off right away with the retreat on the evening of the following day. It was facilitated by Fr. Martin, a Dominican, who led us through praying with nature for eight days. It was, to say the least, a touching and wonderful experience for all of us.
On the last day we had a colorful Mass, together with the community, in the main chapel. In the afternoon, we had a general cleaning in preparation for the classes in Moral Theology and Discipleship. I would say that the lectures had enriched us with the knowledge about how we can be good disciples and lead others to become good disciples too.
Like Abraham, our Father in Faith, this is how we can become true disciples of Jesus. As soon as we hear the call of God and pay greater attention to his voice, we are transformed and our lives change. Thus, we are able to look at things in different ways. We are able to think and look at things differently and likewise, at every situation when they come.
In Christian Ethics, we have understood more deeply the human conduct in the light of truth. All human beings created in the image and likeness of God are equal in their capacities for life and are subjects to human rights, development and property. And, one is not an object of any form of social interaction or transaction and relations.
Although the days were too short, at the least, we were enlightened and enriched in many ways in our spiritual growth and understanding of certain realities in our daily life. We appreciate our community here in Jinja and the Sisters who took over the different duties we left behind so that we can go and be together with our fellow juniors in Nairobi. Because of this, we were able to partake of the spiritual nourishment, the joy of get-together and the opportunity to share our journey in the religious life. Together with the Sisters in Karen who supported and encouraged us in different ways, may we continue supporting one another in this journey of discipleship.
Have a problem or question? How can we help or pray for you? Our Sisters are waiting to talk or hear from you! Please call (402)371-3438, email khermsen@norfolk-osb.org or use the chat button on our website.