Africa
Primary Seven Pupils' Commissioning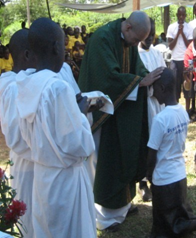 As the school year ended, 48 P7 pupils were honored by the school for finishing their primary years successfully and to prepare them with good wishes and prayers for the national Primary Leaving Examination (PLE) in November 2013. The celebration began with the Holy Mass where each pupil, regardless of his/her religion, received a special blessing from the celebrant, Fr. Juan Luis, OCD. This was followed by a special lunch and program where pupils from the lower classes participated.
A series of speeches delivered by the different sectors from the community were full of gratitude and appreciation to: the school administration, teachers, Sisters and parents for the good education received by the pupils. The program was spiced up when everyone extended good wishes and high hopes for the students in the PLE. Afterwards the pupils, accompanied by their parents, received their Certificate of Completion. Each pupil, then received a gift from the school administration and from their parents. The entire celebration was highlighted when Sr. Naume cut the cake she baked. Everyone present enjoyed the celebration and fellowship.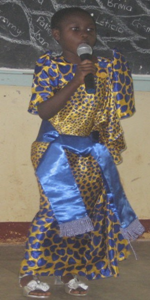 Have a problem or question? How can we help or pray for you? Our Sisters are waiting to talk or hear from you! Please call (402)371-3438, email khermsen@norfolk-osb.org or use the chat button on our website.