Africa
The Joy of Reaping at the End of the Year 2015
Sister Judette Pulle, OSB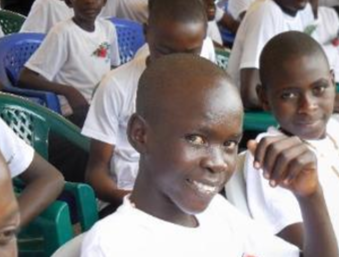 The victory of every pupil in any grade is the joy and happiness of his or her parents, teachers, and the child. But even more anticipation is felt during the time of the "Primary Leaving Examination". The whole country is concerned and alert.
The year 2015 national results were shocking as most of the traditional schools were not able to get four aggregates for the best four subjects. Yet it was said that most of the children did well. Our St. Benedict Grade School results indicated a better performance as compared to all the previous years. We are improving every year! All of our children scored at 1st and 2nd levels, making our school 4th out of 265 schools in the whole district. There is trust for the work we do. When our Primary Seven students leave us, they are recognized for their discipline, hard work, behavior and moral upbringing. Our graduating students are, therefore, invited by some of the most prestigious secondary schools in the area. We have received a number of compliments from many schools because of what our children become in secondary and higher education.
Indeed, our candidates of 2015 were subjected to quality class teaching as well as other life skills and Benedictine values fostering both their education and integral personal formation. In this way, we hope to equip our students for the academic, social and personal challenges they will face ahead.
The success of these children is not only the work of the school; I attribute it to the partnership and cooperation we share in the education of our children. Parents are totally involved as seen from the children's homework books, class visits by parents, parent – teacher relationship and collaboration. As a school, all departments join together to give the children, love and care. Bringing our children to this point has been a contribution of every person who, in one way or another, was in contact with the child: parents, sisters, teachers, fellow pupils, drivers, cooks, garden workers, guards, matrons and the priests who serve at our school. No wonder, most of these children cannot forget us, they always come back to St. Benedict's Grade School.
We thank all those people who contributed to the success of our children and the children themselves for their hard work and determination.