Asia
43 Oblates Make Their Final Oblation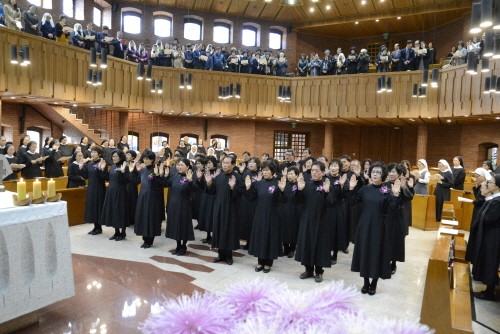 On Sunday, November 9, on the Feast of the Dedication of the Lateran Basilica, 43 Oblates made their final oblation after formation period. The ceremony took place at 11 o'clock High Mass presided over by Rev. Dionysius Park in the chapel of Daegu Priory House.
They were the second group of initiates, women and men who embraced the Oblate Way of Life in 2008 and begun their journey with Missionary Benedictine Sisters of Tutzing. Under the direction of Oblate Co-directresses Sr. Agatha Kim and Sr. Anna Maria Cheong, they went through the formation steps studying the Rule of St. Benedict and living the Gospel values of justice and peace. After 3 days of spiritual retreat at Benedict Spirituality Center from Friday Nov. 7 to Sunday Nov. 9, they expressed their desire to surrender themselves wholly to Christ and to live out the charism statement of incorporation into the Congregation of the Missionary Benedictine Sisters of Tutzing.
Their petition were placed upon the Altar followed by the Suscipe me. They each received a cross to remember Jesus Christ whom they should serve wholeheartedly as they work zealously with others for the good of humanity and the glory of His name. A luncheon was served afterwards for the family members and friends at the basement hall of the Priory House followed by a congratulatory program prepared by other Oblates.
Have a problem or question? How can we help or pray for you? Our Sisters are waiting to talk or hear from you! Please call (402)371-3438, email khermsen@norfolk-osb.org or use the chat button on our website.