Asia
Daegu Fatima Hospital: Youth Doctor Internship Program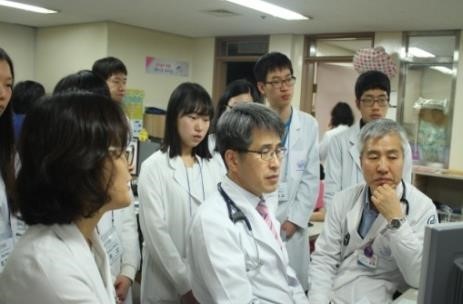 Daegu Fatima Hospital initiated the Youth Doctor Internship Program the first in the country in 2012 and since then the program is held every year. This year the program was held in January 21-22. The program was initiated for the purpose to help the students to have right understanding of professional career and medical
institution.
Since last 7 years, 180 students had received the certificate from the program. Every year the candidates were selected by Daegu Metropolitan Office of Education through the recommendation of principal of each high school; and the competition rate is 5:1.
The program is highly motivated and students are guided and taught by hospital staffs: doctors, nurses, paramedical workers, and hospital administrative officers and are immersed into the world of medicine as they explore the career possibilities available to medical field. Students are featured lectures, demonstrations, discussions, hands-on session, especially, visit an operation theater and watch surgery, and go the round inpatients. This program is to help the opportunity to discover their passions and interests and discern which career path is best for them.
Have a problem or question? How can we help or pray for you? Our Sisters are waiting to talk or hear from you! Please call (402)371-3438, email khermsen@norfolk-osb.org or use the chat button on our website.