Asia
First Oblation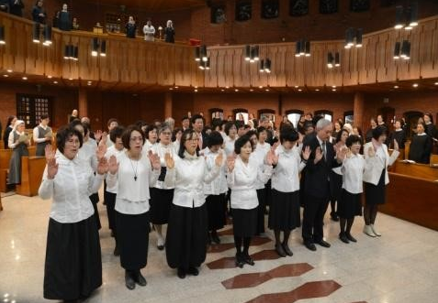 The 42 members of the Third Group of Oblates had their retreat from March 21 to 22 to prepare their First Oblation at the Benedict Spirituality Center. The theme of retreat was "What am I offering to God!" facilitated by Sr. Anna Maria Cheong. They had one postulant year and two novice years.
They made their First Oblation to God before all the saints during the Eucharistic Mass at 11 AM, Sunday, March 22. As a sign of oblation they received oblation habit. We pray that they may serve each other with love in the family, society and the church. After the Mass they had lunch followed by congratulatory ceremony and party in the auditorium.
Have a problem or question? How can we help or pray for you? Our Sisters are waiting to talk or hear from you! Please call (402)371-3438, email khermsen@norfolk-osb.org or use the chat button on our website.