Asia
Spring Reception of New Candidates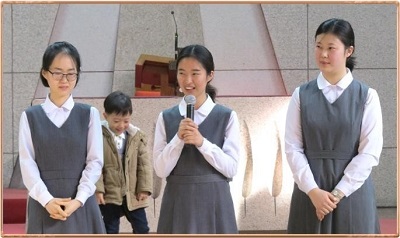 On Wednesday, March 4, three new candidates were welcomed by the community. They are Maria (Yunhee) Hwang from Busan Diocese, Rosaria (Minyoung) Seong from Daegu Diocese, and Stephanie (Jiyoung) Kim from Busan Diocese. They were surrounded and blessed by their families, relatives, friends, parish priests, and parishioners.
After the welcome reception in the auditorium, initiation ceremony with the Liturgy of Word was held at the Priory Chapel at 3:30 PM. The junior sisters and the novitiate members sang to welcome them. The initiation ceremony was ended with the blessing of Reverend Fathers John the Baptism (Gitae) Kim, Gabriel (Youngmin) Kim, Peter (Janggun) Park. The new candidates greeted the community of the sisters after dinner at the community room.
Have a problem or question? How can we help or pray for you? Our Sisters are waiting to talk or hear from you! Please call (402)371-3438, email khermsen@norfolk-osb.org or use the chat button on our website.