Asia
Mission Hospital in Samar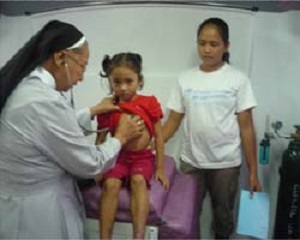 The Missionary Benedictine Sisters in the Philippines are building a 25-bed hospital in Pambujan, Northern Samar, in response to the community's critical need. This hospital is going be the best for the least, one that the poor and the almost poor can proudly claim as their hospital because it serves their needs well at little or no cost. Generous supporters have come forward to help, the Salazar family has donated a 3.5 hectare piece of land where the St. Scholastica's Mission Hospital will be.
The building construction will be shouldered by Hyundai Asia Resources Inc. courtesy of CEO Fe Perez- Agudo, a St. Scholastica's college alumna. AIM of Vanves, France will provide a mobile bus clinic. Much more is required for the hospital to be completed and more importantly, for it to be sustainable. An endowment fund campaign of P100-million (2.3 million US dollars) is now being put together to ensure the hospital's long-term viability.
Have a problem or question? How can we help or pray for you? Our Sisters are waiting to talk or hear from you! Please call (402)371-3438, email khermsen@norfolk-osb.org or use the chat button on our website.