Asia
Lord, I Offer You My Life: Rite of Oblation at St. Scholastica's Chapel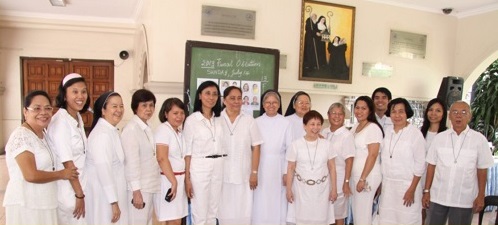 "I Offer Myself to Almighty God, through the Blessed Virgin Mary and our holy Father Benedict, as an Oblate of St. Scholastica's Priory of the Missionary Benedictine Sisters of Manila… I promise to dedicate myself to the service of God and humankind and to live according to the Gospel, guided by the spirit of the Rule of St. Benedict insofar as my state of life permits."
Thirteen Candidates- 11 women and 2 men- pronounced these words for Final Oblation in the presence of M. Adelaida Ygrubay, Prioress and the community of Sisters from the Priory house and the Manila Sisters. The Rite of Oblation took place within the Mass presided over by Fr. Ephraem Molina, OSB. Before the act of Oblation, Sr. Pia Lansang, Moderator, formally presented the Candidates to the Prioress, started with the question "What is your desire?" in answer to which the Oblates asked for affiliation to the Community of Benedictine Sisters as Oblates of St. Benedict. The formal acceptance by the Prioress was capped by an investiture of each Oblate with the Medal of St. Benedict.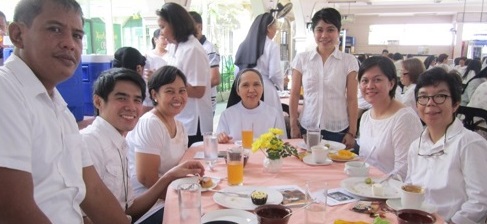 The Rite of Oblation was then followed by the traditional annual Renewal of Oblation by more than fifty others, all full-fledged Benedictine Oblates. Eight of them were Oblates from Taal, Batangas, accompanied by Sr. Guadalupe Valdez, OSB who set out very early all the way from Taal to be in time for the 7:00a.m. Holy Mass and ceremonies.
A procession with vigil lamps to the image of St. Benedict in the sanctuary was a reminder of our journey of faith in this Year of Faith. The numerous candle flames flickering at the foot of St. Benedict's big statue in the sanctuary, were a testimony to the light of the Gospel that we are all called to share with others especially in this Year of Faith.
A common breakfast at the pergola followed the Holy Mass . It was an opportunity for the Sisters and Benedictine Oblates to enjoy a meal together, seasoned with lively conversation, laughter and friendship. Towards the end of Breakfast, Mother Adelaida Ygrubay, addressed the assembly with some inspirational thoughts. All in all, July 14th was a day of laity manifested an interest in the way of Benedict, as well as an indication of the enduring relevance of his monastic values of ora et labora, seeking God in prayer and service, obedience and humility for people of our times. In short, Benedictine Oblation means: "Lord I offer you my life! I commit myself to Christ as the center of my life, preferring nothing whatsoever to the love of Christ."


Have a problem or question? How can we help or pray for you? Our Sisters are waiting to talk or hear from you! Please call (402)371-3438, email khermsen@norfolk-osb.org or use the chat button on our website.