Europe
Students Travel to Bulgaria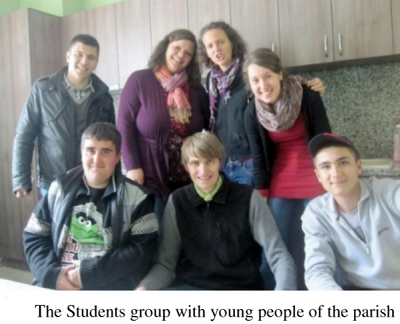 Nadya Ruzhina traveled with some fellow students to Bulgaria in the spring of 2014. She writes:
"I won't be able to tell everything we did and saw, but I want to give some highlights of the country, its people and the situation in Bulgaria. Sr. Quirina told us about the history of the Sisters as well as the situation of the people 100 years ago when the Sisters arrived. She also related her arrival after communism and about the situation of the Church at that time. It was so interesting for us to hear these things because for most of us it was our first visit to Eastern Europe and a post- communist society.
The town of Rakowski is a Catholic island in Orthodox Bulgaria. It is also the largest Catholic center in the country. We spent our first days there and were impressed by:
• Flooded streets because of the lack of a sewage system
• Old and new houses
• Sheep traders and men who slaughter sheep for religious rites
• Grandmothers clad in black with head scarves
• Lots of other sights that would take a person back more than 60 years from our modern society
About the Roma there are officially approximately 600,000 Roma living in Bulgaria. This is probably a low estimate because most Roma fear discrimination and do not register. Many of the women seek to find work in Greece as caregivers. The men try to relocate to Germany or other EU countries because they are uneducated and can't find good jobs in Bulgaria. In one part of the city there are two schools just for Roma, but the level of education is so low that many children finish at the school without being able to read! The Salesian Fathers are working to build an elementary school, church and hostel in this quarter to help give the children a better educational foundation and hope for the future.