Europe
Asylum Seekers Flock to Dresden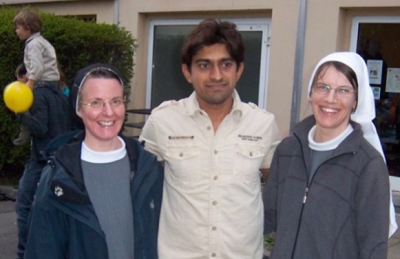 Our Sisters in Dresden report that there are currently about one hundred asylum seekers arriving in the city each month. People are arriving from Syria, Iraq, Afghanistan, Pakistan, India, Georgia, Palestine, Tunisia, Libya and Morocco in the Middle East and from Serbia and Macedonia in Europe. They each have their story mostly filled with experiences of war, violence, political chaos and economic mismanagement.
There is currently a team of seven social workers, including Sr. Marie-Therese Brodmann, helping the municipality to accommodate them by helping with orientation to the city, finding health care, and schools for the children. Young adults who are immigrants are not allowed to work for 9 months nor attend a publicly funded German language course. This makes it extremely difficult for them to survive. We try to help them by introducing them to their new neighbors and helping them network with others who have experienced the same difficulties.
Sister Marie-Therese says "I love to be able to support people who have to rely on outside help in their difficult situations. The care for these people reflects a very fundamental Benedictine virtue: It is a specific way of practicing hospitality. The people I care for are Muslims for the most part. And yet I recognize that it is possible to give hope and courage to people even across religious boundaries.