Europe
Handing over of the Rule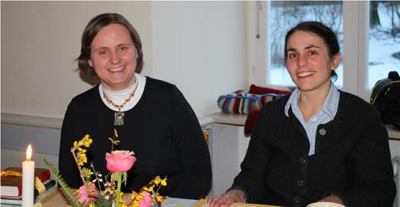 Sabine Menge and Magdalena Mehringer received the Rule and our Constitutions and went the next step into our community. Both entered in October 2014.
Sabine is a theologian and worked in hospital chaplaincy before she entered. She was born in Arnsberg/Sauerland however didn't get to know our community via Haus Marienfried/Olpe but by the internet!
Magdalena was born in Bad Tölz (1983). She worked for three years in administration. Afterwards she supported farms and families in case of need. She got to know us by her spiritual director.
For their celebration they chose the story of Philip meeting the eunuch as a reading (Act 8, 26-40). Sr. Hildegard Jansing interpreted it for us (the full text of her interpretation may be found on our website—in German).
She showed that "the story is on the line of Benedictine spirituality and might be path breaking for our spiritual life as Benedictines. There's a man who ventures an exhausting travel to adore God. A man who reads the word of God but doesn't understand anything. So he asks for explanation. And there's Philip who opens his mouth and preaches the Gospel of Jesus. So the eunuch 'went on his way rejoicing'."
We wish Sabine and Magdalena that they rejoice on their 'way of God's commandments', that their hearts expand and that they find clarity for their way.