Adopt A Sister
---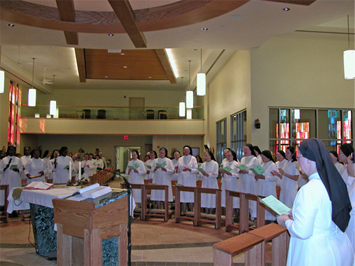 Prayer is a gift from God.

Prayer is a ministry of the Missionary Benedictine Sisters that we want to share with you. When you Adopt a Sister, not only will our Sister pray for you and your intentions, but we covet your prayers as well. We're connected to our God in prayer and to each other. 

Father Victor Hoagland has written extensively on prayer. Prayer and praying are essential for your life of faith. Like breath to the human body, prayer makes the spirit live. Without it, faith dies. On the other hand, a person who prays grows in spirit and life. Yes, all are called to pray. All receive the gift. And, surprisingly, sometimes those thought to be "ungifted" pray best and are graciously heard. That's the lesson Jesus taught in his parable about the Pharisee and the Publican who together went up to the temple to pray. The Publican, an outsider who thought himself unworthy of approaching God in prayer, was found more pleasing by God than the Pharisee, a professionally religious person, who prayed so effortlessly. Prayer, then, is God's gift to the strong and the weak, to the smallest child and frailest of the old. It's given to those who say, " I'm not really religious; prayer is beyond me." It's given to everyone, no matter who you are.

Please fill out the form below and we will connect you to your new prayer partner, one of our Missionary Benedictine Sisters.