Ministries of the Tutzing Community
Tutzing Priory
Our community was started in 1885 in Germany. It is as old as the Congregation of the Missionary Benedictine Sisters. This is where it all begun. 
From the beginning, Tutzing has been the training ground for the Missionaries who were sent to different parts of the world, either to found other communities or to join and strengthen existing communities. In these communities, like here in Tutzing, the Missionary Benedictine Sisters live, pray and work.
From many countries, young sisters have joined our congregation, making up 12 priories around the world. 
Here in Germany, Tutzing Priory includes five communities:
Besides these, there is the House of St. Benedict, which is home to the returning missionaries after their long years of service in foreign lands. 
Bernried Community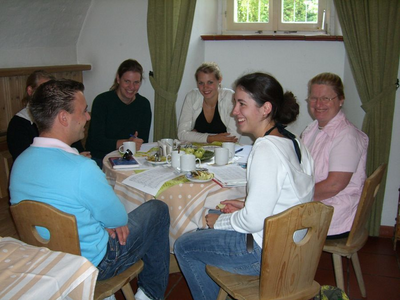 We invite people for meaning and orientation in faith Search. The focus of our educational work programs for women and families, Bible, meditation TCI seminars, retreats, fasting weeks, meditative dance .....
We provide, in addition to our own training events, our strength and our employees on request to groups available, particularly for vocational training of religious and social professions to spiritual training, for deepening of community life and for the disabled.
Our monastery and education house with its large garden is located directly on Lake Starnberg and subsequent National Park. This listed historical building is completely renovated in several large construction projects and currently provides in-house training for up to 95 guests accommodation in single and double rooms, all equipped with bathroom and toilet.
In addition to the chapel, the Festival Hall, the library, the reading room, a TV room and three dining rooms, the meeting participants have more group rooms of various sizes available. For family groups, there is also a children's playroom and a fenced playground. 
Find rest and relaxation for our guests in the park and lake, own beach with sunbathing area and changing rooms. For cozy get-together in the evening there are three "parlors" is available.