Welcome to the Immaculata Monastery Spirituality Center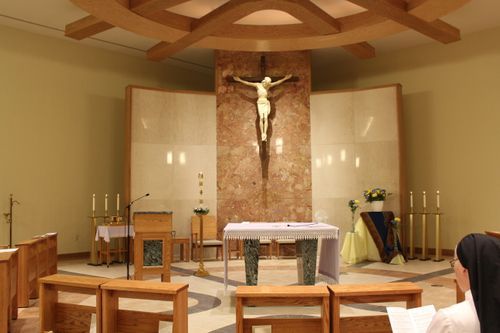 The Missionary Benedictine Sisters welcome you to the Immaculata Monastery & Spirituality Center. Our Center is an extension of our Benedictine spirituality and is open to all individuals and ecumenical and non-profit groups who wish to share faith. We focus on providing an atmosphere that supports your encounter with God and meets your everyday needs. 
Come experience the Benedictines Charism through: private chapel visits and retreats, spiritual direction and prayer groups, even small and larger groups meeting for the day or overnight. The Liturgy of the Hours is prayed four times a day by the Benedictine sisters and Mass is celebrated daily. A Eucharistic Adoration Chapel is also available to our guests 24 hours a day.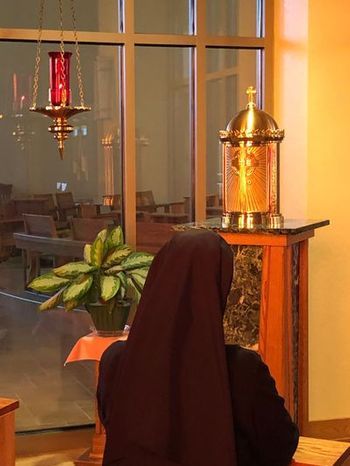 Meeting Spaces
A variety of meeting spaces throughout the Benedictine monastery are available to accommodate small and larger groups (for day use and overnight/weekends). Our facilities include:
Full audio/visual services, including equipment rentals and internet services.
Large cafeteria with full-service kitchen for catering in or group-prepared meals.
Overnight accommodations include 34 private rooms and four additional dorms (8 persons each), common bath facilities with handicap access. 
(Select rooms provide additional space for special needs.)
Small chapels are available in addition to our primary chapel/adoration chapel.

Retreat Center
Our retreat center offers eight private retreat rooms, each with private baths. In addition, a small kitchen, living area, and a private prayer space provide ample opportunities for private reflection.
A number of our Missionary Benedictine Sisters are certified spiritual directors to assist you during your retreat, should you need a spiritual or retreat director.

For more information about the Spirituality Center, please contact:
Sr. Celine Schock 
Immaculata Monastery & Spirituality Center
300 N. 18th Street Norfolk, NE 68701
Phone: (402) 371-3438  
Email: spiritualityctrnorfolk@gmail.com